Posted by Jerry Hinnen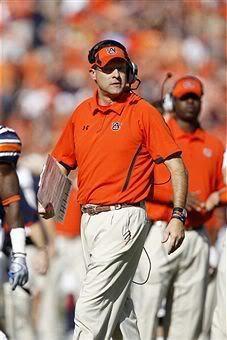 One of the most talked-about columns to emerge in the college football media this past week has been
this one
by the
Denver Post
's John Henderson, which not only confidently claims that
Colorado
head coach
Dan Hawkins
won't survive into the 2011 season but offers an early shortlist for his replacement. The four names allegedly being considered by Buffs brass:
Alabama
offensive coordinator
Jim McElwain
, retired former Colorado head coach
Bill McCartney
,
LSU
head coach
Les Miles
, and
Auburn
offensive coordinator
Gus Malzahn
.
Of those four, Miles is widely seen as unattainable; McCartney (who has been out of coaching for the past 16 seasons) is seen as old and potentially out-of-touch; and McElwain is seen, as, well, the less-exciting of the two Alabama-based coordinators. Which
has focused most of the speculation
in response to Henderson's column on Malzahn, whose go-go offense has transformed Auburn from one of the
SEC
's worst attacks to one of the nation's best in two short seasons (not to mention turning
Cam Newton
into the Hesiman front-runner). His approach would seem to be a good fit both for the Buffs' move to the high-scoring
Pac-12
and for a Colorado fanbase that could use some excitement after the stultifying Hawkins tenure.
But Malzahn,
like his quarterback
, has already taken enough turns on the coaching speculation carousel to know
not to give anything away this early
:
"To be honest, I'm in my own little world," he said. "My entire focus is on this team and making it the best it can be. I'm extremely happy. I've said that time and time again. I love coach (

Gene

)

Chizik

and I love coaching these kids. And my only focus is trying to win games and trying to win a championship."

"Somewhere down the line I'd like to [become a head coach]," he said. "I'm in no hurry. I feel like a lot of people think I am. But like I've said before, we've got a good thing going here and I'd like to see it through."
This is standard boilerplate for a coach who's a candidate for another job in midseason, but of course that boilerplate is something other than "I'll be at Auburn next year" or "I'm not going to Colorado."
So the door for a move to Boulder still is, in the most technical sense of the metaphor, still open. But at this premilinary stage, reading anything into Malzahn's comments other than that he doesn't want to comment is reading too much into them.